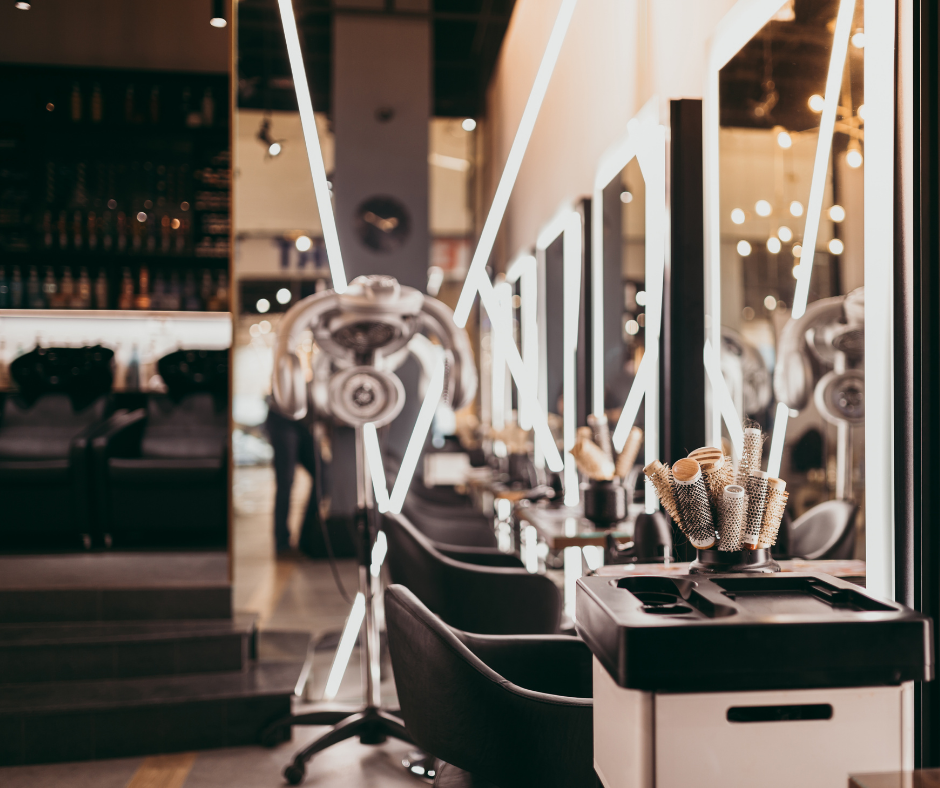 Helpful tips for Hair Salons to reduce job-related injuries and salon insurance cost.
Stylists stand on their feet for extended periods of time every day having a negative effect on their body over time. Holding a fixed position, engaging in repetitive movements, and failing to wear proper footwear, risks major damage to their body. In addition to taking a toll on your team of hard-working beauticians, injuries related to these risks can drive up the cost of your salon insurance. Specifically, your workers' compensation insurance. The cost is not limited specifically to the cost of your salon insurance, the intrinsic costs of employee injuries to your business such as turnover and time off can have a major effect on your bottom line. In today's hot employment market for beauticians, retaining your top talent and ensuring their health and safety is more important than ever.
Common Injuries
The following are some of the most common injuries suffered by those in the cosmetology industry
Poor working postures—

Examples include having your back bent or twisted to wash hair, arms out to the side while giving a massage or shoulders raised while giving a trim.

Repetitious movements over a long period of time—

Examples include prolonged sitting or standing while performing services, filing nails and applying hair color for a long period of time.

Carrying heavy loads

—Examples include holding a heavy blow dryer away from your body or moving a large box of products from one area to another.

Individualized factors—

Examples include wearing shoes with a heel that does not provide adequate support or not taking short breaks to let the body recuperate.
Affordable Solutions
Provide your salon employees enough room around furniture and equipment to move about freely.

Provide ergonomic training materials to your stylists.

Post safety material throughout the salon (if possible), in common injury-prone places (i.e. near water or in the break room)

Showcase ergonomic footwear and stylist tools (along with training videos on how to use them) and offer payroll deduction programs that allow employees to purchase these items and pay for them over time.

Encourage workplace safety by offering salon management "injury-free" incentives and train your managers and shift leaders to be attuned to signs of pain from their employees and to coach their staff on ergonomic self-care.

Create an ergonomic section in your onboarding program and ensure the mentor/manager/shift lead is giving timely and appropriate feedback to the new hire.

Make sure they use an adjustable chair to avoid working with their arms above their shoulders.

Create workstations in which tools and styling products are within reach and at waist height.

Train your stylists to work as close to the client as possible to avoid excessive bending and reaching.

The #1 cost-saving preventative measure over time has proven to be an investment in surveillance cameras to document any work-related injuries.
For a relatively small investment, these solutions can be implemented in any salon with the benefits of:
Keeping your stylists healthy, safe, and on the job

Reducing turnover and time off which are costly to your salon business.

Empower your recruiting efforts by providing a safe and healthy work environment.

Reduce your salon insurance cost by reducing salon workers' compensation insurance claims.

Ultimately, these benefits will, over time, improve your salon's bottom line while keeping your team safe and healthy.
If you want to know more about Hair Salon Insurance. Get in touch with Laura Schmitz and request a Quote today.
Provided by Camargo Insurance
This Coverage Insights is not intended to be exhaustive nor should any discussion or opinions be construed as legal advice. Readers should contact legal counsel or an insurance professional for appropriate advice. © 2007-2010, 2014 Zywave, Inc. All rights reserved.